We at Stubbs Dental Implant Center recently made a significant donation of $3,270 to Reach Out Today, an organization dedicated to identifying and alleviating gaps in services for vulnerable children. Through this donation, Stubbs Dental aims to support Reach Out Today's four essential programs: Feed the Gap, Clothe the Gap, The Hygiene Gap, and The Transition Gap.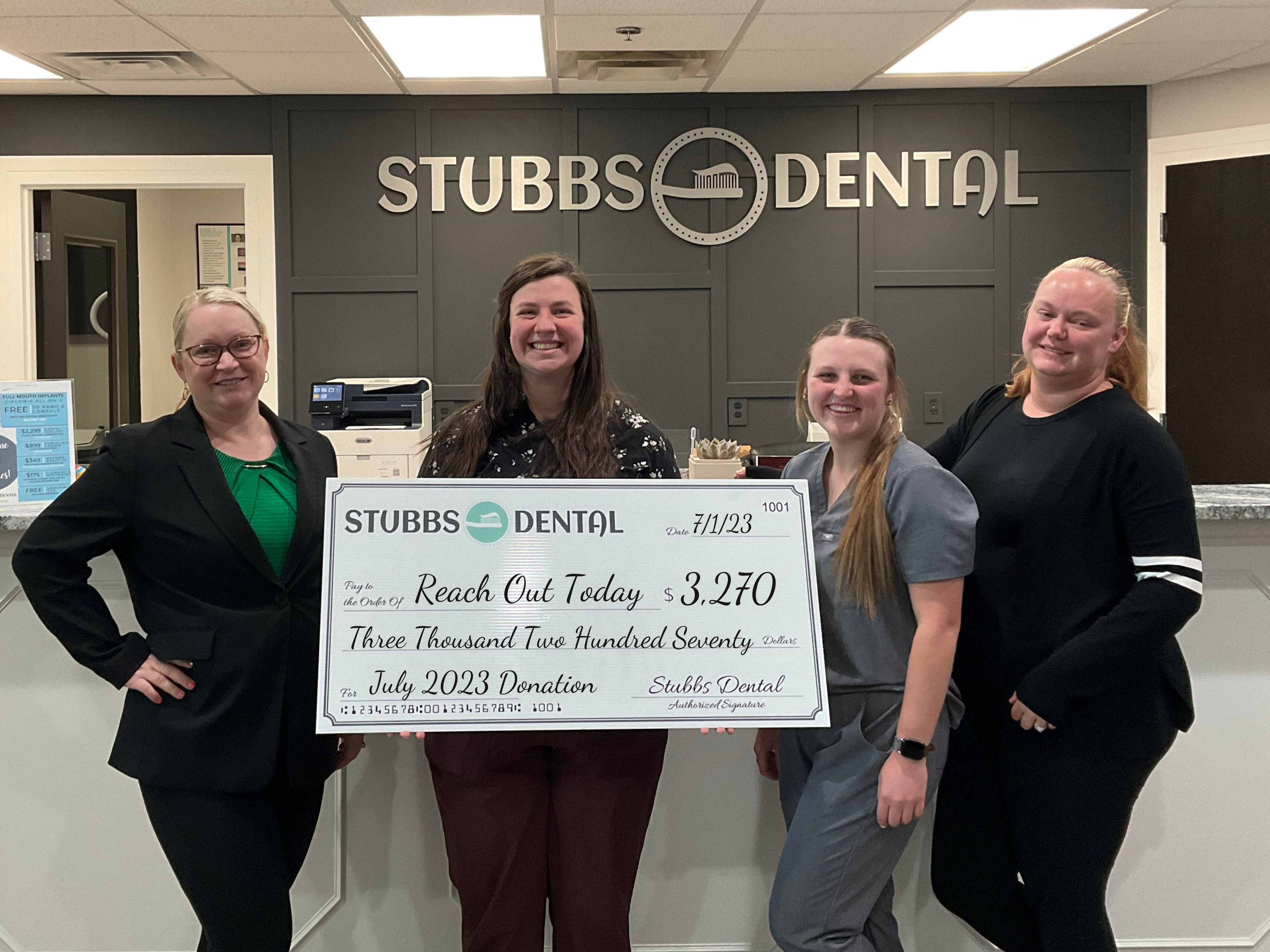 Feed the Gap: One of Reach Out Today's crucial programs is Feed the Gap, which tackles food insecurity among vulnerable children. This program strives to ensure that children have access to nutritious meals by partnering with local food banks, community organizations, and schools. By addressing hunger, Feed the Gap aims to enhance children's overall well-being, promote healthy development, and improve their educational outcomes.
Clothe the Gap: Recognizing the importance of proper clothing for a child's self-esteem and comfort, Reach Out Today's Clothe the Gap program aims to provide essential clothing items to children in need. Through partnerships with clothing stores, thrift shops, and community members, this initiative ensures that vulnerable children have access to clean, warm clothes suitable for their age and size. By filling this gap, the program helps foster confidence, dignity, and a sense of belonging among children who may otherwise lack these essential items.
The Hygiene Gap: Reach Out Today's Hygiene Gap program recognizes that personal hygiene is crucial for overall health and well-being. This program addresses the often overlooked issue of inadequate access to hygiene products for vulnerable children. By partnering with local businesses, medical professionals, and community organizations, the Hygiene Gap program provides essential hygiene supplies such as toothbrushes, toothpaste, soap, and other personal care items. By bridging this gap, the program promotes better oral health, cleanliness, and overall hygiene practices among vulnerable children.
The Transition Gap: Transitioning between different stages of life can be particularly challenging for vulnerable children, and Reach Out Today's Transition Gap program aims to ease this process. Whether it's transitioning from foster care to independent living or navigating changes in educational settings, this program provides resources, mentorship, and support to children during critical transitional periods. By offering guidance, counseling, and opportunities for skill development, the Transition Gap program empowers children to navigate these transitions successfully and build a foundation for a brighter future.
Through our donation to Reach Out Today we are helping to improve the lives of vulnerable children in the community. By supporting the organization's four essential programs—Feed the Gap, Clothe the Gap, The Hygiene Gap, and The Transition Gap—Stubbs Dental has taken a proactive role in addressing the gaps in services surrounding these children. Together, Stubbs Dental Implant Center and Reach Out Today are making a meaningful impact, providing vital resources, and uplifting the lives of those who need it most. This collaboration serves as an inspiring example of how businesses can contribute to creating a more compassionate and inclusive society.
This donation would not be possible without our wonderful patients. We thank you for joining our practice and allowing us to give back to those within our local communities. Not a patient yet? Schedule a new patient appointment today!